Coir Pith is extracted from coconut husks and widely used as an excellent base for growing tomatoes, roses, etc. Coir Pith is 100% organic, has high water absorbent property, within its cellulose structure, and maintains humidity for a long time. Our Coconut Coir Pith is ideal for soil conditioning, improves water retention in permeable plants, planting lawns in parks and gardens, planting sport fields and golf courses and planting vegetable gardens. We are one of the prime Coconut Coir Pith Manufacturers & Suppliers in India.
A spongy material that binds the coconut fibre in the husk, coir pith is finding new applications. It is an excellent soil conditioner and is being extensively used as a soil-less medium for agri-horticultural purposes. With its moisture retention qualities, coir pith is ideal for growing anthuriums and orchids. Available in raw form or converted into organic manure.
Coco peat (cocopeat), also known as coir pith. coir fibre pith, coir dust, or simply coir, is made from coconut husks, Coco Peat is the binding material that comes from the fiber portion of the husk and is also known as Coir pith or Coir dust is a by-product of extracting coir fiber from the husk of a coconut. The coir dust is washed, heat treated, screened and graded before being processed into various Coco peat products for horticultural/agricultural applications and as industrial absorbent.
The compressed coco peat is converted into fluffy coco peat by adding water. One kilogram of compressed coco peat will expand to 15 litres of moist coco peat. The Coco peat by itself does not have any nutrients for plant growth. Necessary nutrients will have to be added according to the plant that is to be grown exclusively in coco peat. Coco peat is also mixed with sand, compost and fertilizer to make good quality potting soil.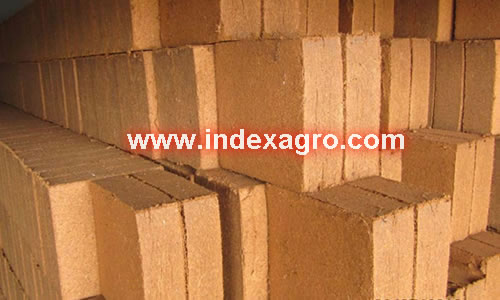 In horticulture, coco peat is recommended as substitute for peat because it is free from bacteria and fungal spores and is produced without any environmental damage caused by peat mining. Being a good absorbent, dry coco peat can be used as an oil absorbent on slippery floors. Coco peat is also used as bedding in animal farms, poultry farms and pet houses to absorb animal waste so as to keep the farm clean and dry.
This coco peat dried in the natural sun, are processed to produce different items namely Coco peat block & coco peat briquettes. Coco peat is a 100% natural growing medium. Coco peat is a multi purpose growing medium that provides new opportunities for: Potting Mix Suppliers, Seedling Nurseries, Hydroponics Growers and Golf Green Constructors. The presence of organic compounds in Cocopeat can results strong root growth compare with other growing medium. In addition it offers some natural resistance to plant diseases, so the plant live span will be long.
Manufacturing process
Raw material procuring and storage.
Washing to reduce the E.C.level - Quality test.
Drying in the cement yard - Moisture test.
Screening and sand separating - Hot air oven test.
Checking the sizes of the particles - Micron test.
E.C.level and pH test - E.C.Meter & pH meter.
Addition of small fibres as per buyer's requirement.
Compaction in correct weight.
Technical specifications
| | |
| --- | --- |
| Product | Coir Pith / Coco Peat |
| Block Dimension | 30x30x10 cm |
| Unit Weight (+/-3%) | 5 Kg |
| Electrical Conductivity | <0.6 mS/cm |
| PH | 5.8 to 6.8 |
| | |
| --- | --- |
| Moisture | 10% to 15% |
| Compression Ratio | 5:1 |
| Sand | 2% |
| Expansion | 15 Ltrs/Kg |
Available Package
All Specifications can be customized as per requirement. All dimensions are approximate
Advantages of coco peat
It is 100% composted. So it is eco-friendly. 100% Organic
It contains beneficial microbes and fertilizer
High water holding capacity
Excellent wet ability, superior to peat
Ability to retain nutrients against leaching and to buffer supply
Good drainage / aeration.
Retains physical properties longer
Light weight
This composted coco peat is free from weeds, pests and diseases
It needs no fertilizers for 3 months after usage
Odorless and pleasant to handle
It comes from renewable resource
Uniform in composition
Promotes strong root growth and plant vigor
Absorbs water readily and re-wets easily, thus reducing the need for wetting agents
Reduces watering frequency without plant stress, thereby reducing labor costs and minimizing plant loss.
Increases shelf life of plants
Applications of coco peat are as
Potting mixes
Green houses
Hydroponics growing media
Nursery & garden center professionals
Seedling nurseries
Lawn and golf courses
Horticulture and floriculture applications
Home gardening (indoor and outdoor) and for landscaping use
Amending clay soils
Worm bedding
Business enuiry
We are keeping the sample batch by batch and can assure that not even a single product will be rejected by our clients.We can produce good quality of coco peat blocks with the well-equipped machineries we have in our factory Please don't hesitate o ask for more about our products.